When it comes to virtual machines a hot topic is "power." Power usage VS CPU Power to be exact. Whether you are running 100 VMs at 128 MB RAM each or 5 VMs at 5GB RAM each, the critical issue comes down to power consumption and CPU availability.
It's no surprise the Rugged E3 Mini PC is designed with a passive CPU heatsink that connects to the thermal transfer housing, helping move heat away from the CPU with the presence of cooler ambient air. It's a Mini PC with a big mission.
This Mini PC enables your virtual environment to be ran on a dedicated physical host that's engineered to be reliable under industrial applications and harsh conditions, (perhaps Tesla can use this on their new bumpy tunnel in LA).
Linux, Windows Hyper-V, XSi, VMware, choose your weapon, configure your platform and load your VMs. Step into the digital arena with up to 32GB of ECC ram -this ant of computer can carry much more than its own weight. Don't forget to pair it with a solid state drive and multiple power inputs, your computational powers will be unstoppable.  
A bridge between virtual and reality: The built-in 4 USB 3.0 ports can communicate directly with your virtual machines. This gives them access to external resources. Now things start to get interesting. Imagine loading DDWRT (open source router software) to a VM, then forward some USB WiFi devices VIA the USB 3.0 ports and Hyper-v, you just created hardware that can support a cloud router with a physical antenna array.
Live Monitoring, Remote or Physical with 3 monitor ports (2 HDMI, 1 DVI) you can view as many VMs that can be cascaded across your displays, with as many as 10 per screen on a 1080p monitor. No monitor? No problem. The Rugged E3 Mini PC is equipped with two 1000Mbps (1GBe). Remoting into windows or linux is an almost real-time experience when combined with the built-in i7CPU and DDR4 RAM, expect no delays.
RAID 0, 1, 5, 10 equal availability and power, It's Monday at 10am and 5 of your VMs just got hit with 400 users, your hard drives deliver data without a glitch  or a single 404 page because you have 2 hard drives working on the same job for you, if one fails, the other picks up the slack. Read more on RAID at PCWORLD.com
Read full specs for the Tangent Mini PC: Rugged E3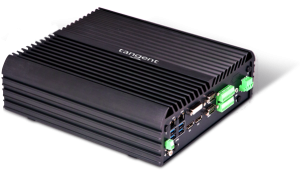 SPECIFICATIONS
System
Processor
Intel 6th Gen. Core i7/i5/i3, Pentium or Celeron Processors
System Chipset
Intel Q170 Express Chipset
Graphics Controller
Intel HD Graphics 530 (Core CPU)
Intel HD Graphics 510 (Pentium & Celeron)
LAN Chipset
1x GbE: Intel I210-AT
1x GbE: Intel I219-LM
Audio
Realtek ALC888S
System Memory
Up to 32GB DDR4 2133 (2x SO_DIMM)
BIOS
AMI 128Mbit
TPM
TPM 1.2 (Infineon)
vPro
Yes (Processor Dependent)
Watchdog
Software Programmable Supports 1~255 sec. System Reset
Storage
SSD/HDD
2x 2.5" SATA Bay (Internal)
2x 2.5" SATA Bay (Removable)
mSATA
2x mSATA (shared with 2x Mini PCIe)
RAID Support
RAID 0, 1, 5, 10
Expansion
Mini PCI Express
2x MiniPCIe (Full Size)
SIM Socket
2x External SIM Sockets
2x Internal SIM Sockets
Other
Cooling Method
Fanless
I/O
Video
1x DVI-I
2x DP (Display Port)
COM
2x DB9 Serial RS232/422/485, COM1 & COM2
2x Internal headers RS232/422/485, COM3 & COM4
USB
6x USB 3.0 (4x Rear, 2x Front)
2x USB 2.0 (Front)
LAN
2x GbE RJ45
WLAN
Intel Wireless AC-7260 + BT (Optional)
Audio
1x Mic-in, 1x Line-out
DIO
8 IN / 8 OUT (Isolated)
Other
1 x Power Switch
1x AT/ATX Switch
1x Remote Power Switch (2 pin Phoenix Connector)
Operating System
Windows
Windows 7 Pro 32/64bit
Windows 10 Pro 64bit
Power
Power Mode
AT/ATX
Power Input Voltage
9-48 VDC
Power Ignition Sensing
Yes
Power Connector
3-pin Phoenix Connector
Power Protection
OVP (Over Voltage Protection)
OCP (Over Current Protection)
RPP (Reverse Polarity Protection)
Power Adapter
External Power Adapter, 12V @ 5A
Environment
Operating Temp.
-13°F – 158°F (-25°C – 70°C)
Storage Temp.
-22°F – 185°F (-30°C – 85°C)
Relative Humidity
10% – 95% non-condensing
Shock
With SSD: 50 G, half sine, 11 ms
Vibration
With SSD: 5 Grms, 5 – 500 Hz, 0.5 hr/axis
With HDD: 1 Grms, 5 – 500 Hz, 0.5 hr/axis
Certification
CE, FCC Class A
Physical
Enclosure Materials
Extruded Aluminum with Heavy Duty Metal
Dimension (WxHxD)
9.45″ x 10.27″ x 3.11″ (240 x 261 x 79 mm)
Weight
9.61 lb (4.37 kg)
Mounting
Wall Mount Only
Warranty
Warranty
1-Year Standard