The biggest trend in patient care and work efficiency has certainly been the introduction of mobile devices for health care providers. According to reports published in 2017, nearly 80 percent of physicians use mobile devices for tasks like transferring patient records. It's long been a challenge for the healthcare industry to adopt mobile devices because of compliance, audit, and IT security requirements, but more and more organizations are now able to securely offer them to their workforce. However handy mobile devices may be, a medical professional can  still only do so much work on them. At some point, they arrive at their office and need to see the same applications and data on a larger screen. Companies like Tangent have made great strides in providing cross-platform solutions that can allow users to move from one work device to another and maintain the same access to their applications in a virtualized environment.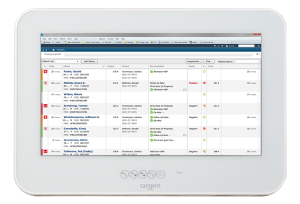 Whether a healthcare organization decides to achieve virtualization with thin clients, web clients, or virtual machines, Tangent supplements those efforts by providing medical grade touchscreen monitors and touchscreen all-in-one panel PC solutions to best complete a health professional's setup. Offered in 15″, 21″, or 24″ sizes, Tangent's medical LCD touchscreen monitor features a 16:9 aspect ratio widescreen display and optional DICOM support for reading radiologists. It is IEC 60601-1-2 certified to be compliant with CDC guidelines for environmental infection control, has an antimicrobial treated casing, and is at an IP65 level of protection against ingress of water or contaminants. It's perfect for use around patients and with thin clients connected to a  farm or industrial mini PCs that are running virtual desktops. The medical touchscreen monitor also has optional anti-glare film for privacy which is important for protecting a patient's personal health information from passers-by.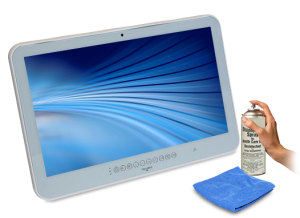 Medical companies looking to connect to their cloud applications via the web will need a powerful PC solution that also protects patients and staff against infection. Tangent's C24 24" medical panel PC may look strikingly like the aforementioned touchscreen monitor, but it is truly an all-in-one solution. The C24 still has the PCAP multi-touch screen, an IP65 front panel, and an antimicrobial surface, but the touchscreen panel PC also features an Intel 6th Gen Core i5 or i7 processor, a multitude of I/O ports, and an optional UPS battery for continued work capability in case of power outages. With up to 32GB of memory, this machine will allow medical staff to multitask on several internet windows and run resource-heavy applications without a worry of slowness or crashing. Tangent's medical touchscreen monitors and PCs are an ideal pairing with virtualized, remote, or cloud applications in order to support a growing mobile workforce.