Over 200,000 Americans are hospitalized annually from it, and 36,000 people die from it. Believe it or not, the cause is the common cold and flu virus.
With a whopping $10 billion spent annually on hospital visits, the common cold and flu are responsible for lost productivity, lost wages, and ultimately, lost business revenue. The reality is that viruses are not just a problem in medical industries. In fact, anywhere people congregate, the spread of bacteria and virus is a viable risk.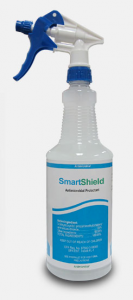 Tangent can help with the prevention of virus contamination with SmartShield. SmartShield is a water-based spray developed with cutting-edge technology, that creates an antimicrobial barrier on any surface it is sprayed on for a year or longer. Just one coat of SmartShield sprayed on porous or hard surfaces seals out mold, mildew, algae, and bacteria. SmartShield is odorless, colorless, and approved by the EPA.
Available in three sizes, SmartShield is a smart buy for personal or industrial use. Application is quick and easy involving a two-step process. Step one, spray on desired surface. Two, wait for three minutes for it to set. Smart-Shield, antimicrobial spray is safe on tools, carpets, fabric, and anywhere you may be exposed to unwanted microbes. There are no corrosive or toxic chemicals in SmartShield. The usage is endless, and you'll have peace of mind with added health protection.
It pays to be extra cautious with your health, especially during cold and flu season. SmartShield is a smart addition to your arsenal against the cold and flu viruses. SmartShield's technology is advanced, the application is simple, and one coat lasts 90 days. Try yours today by clicking here: http://smartshield.tangent.com/