While phased reopenings in various states continue, the trend of infection cases is only increasing. While this is worrisome on its own, the impact this can have on our healthcare system is not to be underestimated. Keeping patients safe is the priority of every hospital, and in these times this priority is all the more challenging. But with Medical Tablets from Tangent, doctors and patients can have a barrier of safety while still giving and receiving medical care.
Medical Tablets: Promote Social Distancing
Hospitals are continuing to make efforts to mitigate the chance of infections for patients and medical staff. While wearing face masks and maintaining an appropriate distance during contact are key to preventing the spread of infection, medical tablets can help take this one step further. With a medical tablet in hand, doctors can talk to patients remotely via telehealth. Whether patients are at their own home or in the hospital, a medical tablet can give patients the face-to-face time they need without putting anyone at risk.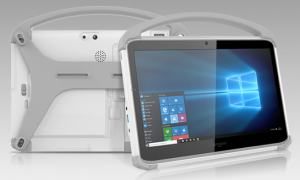 In the hospital, medical tablets allow doctors to access patient records on-the-go and before they sit down with a patient. This ensures that doctors are only in close proximity to patients for the least amount of time necessary. Patients can also make use of medical tablets in the hospital to safely and reliably contact medical personnel. In nearly every situation, a medical tablet can help promote social distancing and limit social interactions.
Antimicrobial And Fully Sanitizable
Not only do medical tablets from Tangent promote social distancing efforts, they take safety even further. Medical tablets like the T13 from Tangent have fully antimicrobial enclosures. These antimicrobial enclosures mitigate the growth of pathogens on the medical tablet's surface. This allows medical tablets to be used by multiple medical personnel without the risk of infection poised by non-antimicrobial tablets.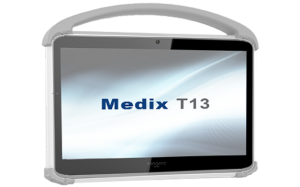 In addition, medical tablets from Tangent are fully sanitizable with traditional cleaning products. With regular cleanings, medical tablets can safely and effectively keep hospitals running smoothly. The combination of being fully santizable and antimicrobial means that medical tablets from Tangent are the prime candidate for reducing infection risks.
Medical Tablets: Safe And Reliable
Tablets come in all shapes and sizes, but only medical tablets are built for the shape and size demanded by the medical setting. With telehealth options and fully antimicrobial enclosures, medical tablets from Tangent are the right fit for any hospital looking to promote safety.