Each day, doctors and nurses around the country put their lives on the line for others. Everyone's health and wellbeing during these trying times depends on the health and wellbeing of our nation's medical professionals. It is these medical professionals who are helping beat back this pandemic, and return our lives to a sense of normality. Keeping our medical professionals safe is synonymous with keeping the country safe. To that end, Tangent has upgraded our medical grade computer lineup to include the latest in sanitation and safety solutions to help keep your hospital safe.
Tangent Medical Grade Computers: Safe And Sanitary
As previously mentioned, the safety of our medical professionals is crucial to the safety of everyone. Tangent takes the health of medical professionals seriously, and has redesigned aspects of their medical grade computer lineup to reflect this. The newly enhanced Medix 22 medical grade computer from Tangent has been retrofitted for today's demanding hospital requirements.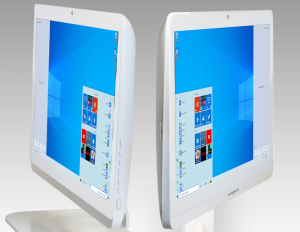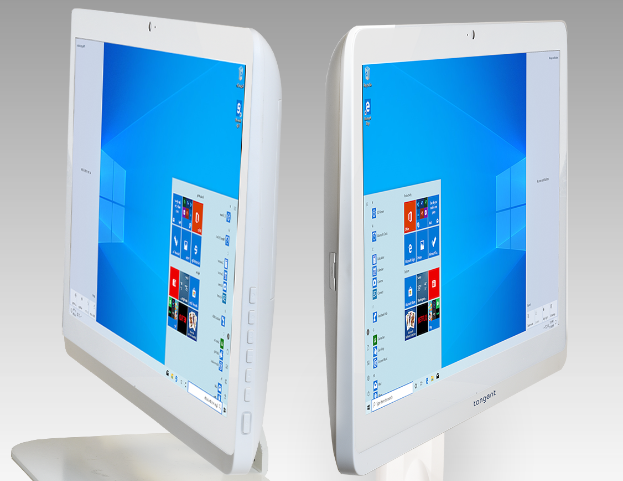 With an antimicrobial enclosure, the Medix 22 medical grade computer is ready to help your doctors without harming them. The antimicrobial enclosure mitigates the growth of harmful pathogens like bacteria and viruses on its surface, minimizing the risk of contact based transmission of illnesses between medical staff. Medical grade computers can see countless different users throughout the day, so this antimicrobial enclosure is key to making sure that contact based transmission is kept to a minimum.
The Medix 22 medical grade computer also comes standard with a fully IP 65 water resistant touch screen. This means that doctors do not keep to use keyboards or mice to make full use of this medical grade computer, peripherals that could potentially carry harmful pathogens. The Medix 22's touch screen is fully tactile, allowing the user to have precision not seen elsewhere. Using the Medix 22's touch screen is like using your phone's touchscreen: quick, intuitive, and easy.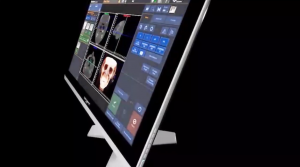 The Medix 22 is just as powerful on the inside as it is safe on the outside. This medical grade computer features a Kaby Lake U chipset and your choice of Intel 7th generation processors. Combined with up to 32 gigabytes of RAM, the Medix 22 medical grade computer is a powerhouse capable of running multiple medical grade software items at once. With Windows 10 built in, the Medix 22 medical grade computer is as easy to use as a traditional home computer, but with the power demanded by the hospital setting.
Of course, Tangent could not redesign the Medix 22 medical grade computer for the current day without including some hefty telehealth capabilities. A built in, front facing camera is standard on the Medix 22. This 2 MP camera has a sliding cover for optimal image clarity and privacy, as well as a fanless cooling system to reduce the amount of background noise during telehealth appointments. An optional UPS battery system is also available, allowing doctors to wrap up telehealth appointments the right way during a power outage, rather than simply ending the call.
Tangent: On Your Side
Tangent is constantly thinking about our medical professionals, and our newly enhanced medical grade computers reflect this. Learn more about the Medix 22 and other medical grade computers by contacting Tangent Sales today.