If you have tried to get a vaccine in recent days, chances are you have had to go through a patchwork system of government websites and private companies. This confusing process can show that a person is eligible for the vaccine on one website and not eligible in another. Luckily, this is about to change. The Biden administration is predicting that by April 19, all U.S. adults will be eligible for the vaccine.
Your hospital's members have been confused for long enough. When it comes time for their vaccine appointment, make sure that the process is fully streamlined and easy for them. One of the best ways to streamline the vaccination process is with medical grade tablets.
Medical Grade Tablets For Vaccination Stations
Currently, many U.S. hospitals are relying on medical carts and other transportable medical computer stations for their vaccination clinics. While these medical carts certainly get the job done, they have some major drawbacks when it comes to facilitating vaccinations.
They may not be as portable as they seem. Vaccination clinics can see long lines at some points in the days, and virtually no one at other parts. With medical carts, there's no flexibility in transitioning your medical staff from one area of the vaccination clinic to another.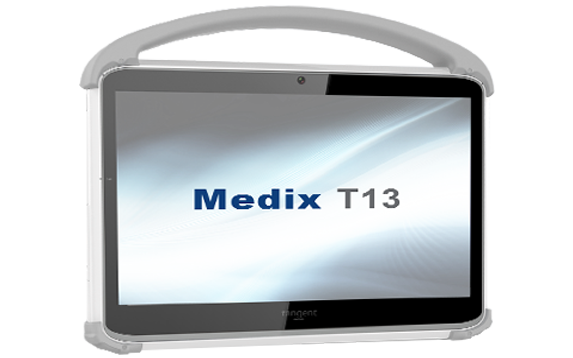 That's where medical grade tablets like the T13 from Tangent come in. The T13 is a robust medical grade computer contained in a portable, easy to use tablet. The dynamic touchscreen allows medical staff to carry the tablet with one hand and easily operate it with another.
The T13 comes equipped with a barcode scanner. This barcode scanner can help integrate your vaccination process directly into your existing medical computer infrastructure, allowing nurses to print off vaccination record labels and quickly scan them rather than manually writing them out by hand.
What's more, the T13 features an antimicrobial coating on its casing. This antimicrobial casing mitigates the growth of harmful pathogens on its surface, allowing your nurses to work longer in between their regularly scheduled cleaning procedures. This antimicrobial coating works in tandem with the T13 medical grade tablet's barcode scanner to reduce the number of writing utensils that your hospital needs to constantly clean and reuse in its vaccination clinic.
Vaccinate Easier With Tangent
Tangent has remained committed to helping our essential medical heroes throughout this pandemic by providing them with the best possible medical grade computer equipment. Now that we are in the homestretch, Tangent is one again offering hospitals an easy and efficient way to help their patients. For more information, contact Tangent Sales today.