How often should a food processing plant be in the news? Ideally, never. But as the pandemic continues on, food processing plants have come up more and more often in the news as potential hot-spots for infection. While these facilities are crucial to supplying Americans with the food they need, it is nevertheless important to acknowledge that poor working conditions and workplace hazards are a detriment to the branding of any company. Food processing plants are no exception, and preventing disease spread in your food processing plant is crucial to protecting employee lives, keeping the facility running smoothly, and maintaining your brand.
Perform Strict Virus Testing
The easiest solution to preventing an outbreak at your food processing plant is to ensure that one can never start in the first place. Remember, it is always better to be overly cautious now than to be dealing with strikes, plant closures, and lawsuits later. These outcomes could be disastrous for your facility, and preventing them is crucial.
Tyson Foods has implemented a weekly virus testing policy for all of its food processing plant workers. This is a bold step in the right direction. While it may be costly in the short term to perform weekly testing, a full food processing plant closure will be extremely costly in the long term. Keeping workers safe is the same as keeping your plant open during this pandemic.
Increase Safety Measures
While your food processing plant has more than likely already implemented some safety measures, it is time to implement the very extremest of measures. It is not enough for employees to wear masks and be tested regularly, they must also maintain social distance and keep their industrial hygiene at its peak.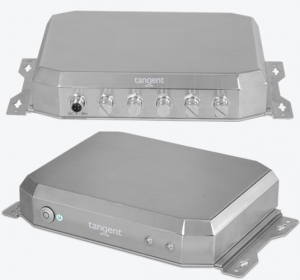 Industrial hygiene is crucial during this pandemic. Workers should be able to clean their industrial computers regularly. Industrial computers like the Mini O from Tangent are fully waterproof, receiving the highest IP rating (IP69K) for water resistance. Implementing these industrial computers into your facility will allow workers to fully sanitize their industrial computers before and after use. These strict measures can help ensure that asymptomatic workers do not become the point of an outbreak for your food processing plant.
Augment Your Facility To Handle Social Distancing
Your food processing plant may be experiencing some level of social distancing currently, but chances are these measures have resulted in diminished productivity. Simply removing some workers from one area without altering the way your facility is set up is wasting both labor and space.
It may be time to reimagine your food processing plant entirely. With the addition of industrial grade computers, the amount of workers that need to be in one place can be drastically reduced. Small, rugged mini industrial computers from Tangent can be placed in virtually any situation. With extreme water resistance, temperature resistance, and fanless designs, mini industrial computers from Tangent can fit into your food processing plant and augment the way you do business.
Stay Safe With Tangent
Neither your or your workers want an outbreak to occur at your food processing plant. With industrial computers from Tangent, the chances of this occurring can be reduced. Contact Tangent sales today for more information on our lineup of durable and safe industrial computers.