Hospitals have adapted to the challenges brought on by the pandemic. Constant face mask usage, plexiglass barriers, and social distancing guidelines are just a few of the adjustments that hospitals had to enact. The pandemic is nearing an end, but the medical advancements made during this time will continue to help hospitals in their work to create healthy communities. Still, these medical advancements did not affect every area of the hospital equally. Hospital communications remain in a virtual stone age, where archaic technology is holding back the potential of medical staff.
Medical communications are too important for hospitals to put off upgrading. Tangent medical tablets allow hospital staff a secure and convenient way to communicate throughout the hospital.
Communications, Pagers, And BYOD Replaced With Medical Computers
Communications have always been a challenge in the medical setting, so much so that 90% of hospitals still employ ole reliable: the pager. Hospitals cite all the normal reasons to continue using this outdated technology; pagers have a long battery life, no dead zones, and are used solely in the medical setting.
These advantages are nearly impossible to replicate with policies such as Bring Your Own Device (BYOD). BYOD requires medical professionals use their own cell phones for work. BYOD also has numerous HIPAA complications in addition to being unreliable. Even if hospitals provided phones for their employees, their short battery life and potential to drop calls makes them too risky.
Medical computer tablets can alleviate your hospital's dependence on pagers. While in the hospital, medical computer tablets like the T13 can be your doctor's perfect pager replacement. Medical computer tablets have all the advantages of a pager. These include a long battery life, direct connection to your hospital's wifi network with no dead zones, and their use is limited to the hospital. In addition, doctors can check on their emails, view patient information, and browse medical data from anywhere in the hospital.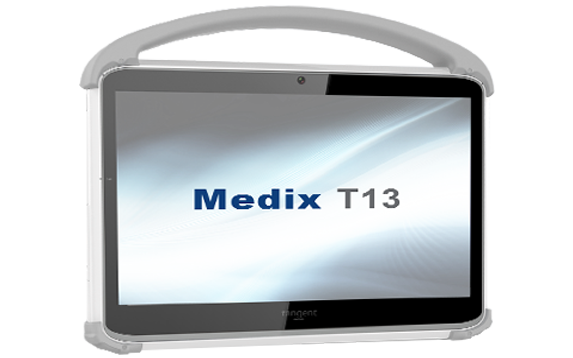 The T13 from Tangent is custom-built with hospitals in mind. Its touchscreen is fully sanitiziable and IP rated for water resistance. The custom built chassis features an antimicrobial coating which mitigates the growth of bacteria on it, allowing doctors to use it throughout the day without worrying about the potential of disease spread. Doctors can also use its convenient carrying handle to easily transport the T13 throughout the hospital.
Ready To Upgrade With Tangent?
This pandemic has caused a massive and rapid digitization of our daily lives, and the hospital setting is no exception to this. Make sure that your hospital is at the forefront of technology, and not reliant on medical equipment from the 1950s. Employ medical tablets from Tangent in your hospital today. Learn more by contacting Tangent Sales.