There is a lot of talk about telehealth these days, and while it has been a vital tool during this pandemic, there have been other medical computer-based solutions that have been overlooked. One such solution is remote monitoring via medical computers, which can help hospitals continue to treat patients without putting them in harm's way.
What Is Remote Monitoring On Medical Computers?
Simply put, remote monitoring takes the idea of telehealth to its logical endpoint. While telehealth is used primarily for appointments such as primary care visits, remote monitoring allows doctors to monitor the vitals of patients from their own home. This allows doctors access to the vital patient information they need to make healthcare decisions without putting either the doctor or patient at risk.
The same temporary rules that have made telehealth more accessible during the pandemic have also made remote monitoring more feasible. Now any hospital using medical grade computers can easily set up remote monitoring.
Remote Monitoring In The Home
Right now, high-risk patients have enough on their plate. Asking them to put their health on the line to come into the hospital might be a big ask. But the regular trips that these patients make to the hospital are also necessary for doctors to determine the next step of their care plan. Remote monitoring allows for doctors to get the information they need, and for patients to be out of harm's way.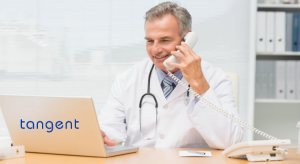 Wearable sensors, self administered tests, implanted sensors, and more are now available for patients at home. The information these devices collect can be transmitted directly to their doctor's medical grade computer. In essence, remote monitoring allows for pre-pandemic levels of patient care via medical grade computers.
Remote Monitoring In The Hospital
The obvious benefit to remote monitoring is that doctors can once again get the information they need to make informed decisions. But there are other benefits to hospitals in general. High-risk patients such as those with heart failure can be safely monitored at their home, allowing for more ICU beds to be available in this crisis.
Furthermore, remote monitoring can be used inside the hospital to keep track of infected patients on medical grade computers without putting medical staff at risk. Remote monitoring can even lead to faster response times.
Setup Remote Monitoring With Tangent Today
Remote monitoring can be a crucial part of your hospital's pandemic preparedness plan. With Tangent's medical grade computers, your doctors can safely and securely access patient information on fully sanitizable and antimicrobial medical computers and medical grade tablets. Contact a Tangent medical grade computer expert today to learn more.